Colchis
South of the city of Kilkis, near the River Galikos was discovered early Christian settlement and parts of three-aisled early Royal Christian of the fifth century in which traces of Byzantine frescoes of the 12th century.
Palatiano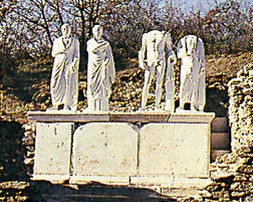 North of the town of Kilkis is the archaeological place of Palatiano. In this area there are ruins of a large Macedonian city from the Hellenistic and Roman ages. Many people identify with the ancient Ioron. The excavations began in 1961 and have brought to light so far four great statues (exhibited in the Archaeological Museum of Kilkis) buildings, chapels and 2 houses. While in the second hill of the area the cemetery has been found.
OLD Gynekokastro (Women castle)
Southeast of the agglomeration of Kilkis is the Old Gynekokastro. On a hill near the village is the Gynekokastro castle. It was built by Emperor Andronikos III Palaiologos (1328 - 1341) to strengthen the defense of Thessaloniki from the raids took place from the north. So named (Women castle) because it was so well fortified and secure that they could defend it, even women.